FROM PIRTON TO SCUTARI WITH FLORENCE NIGHTINGALE by Bridget Howlett
The records of the Nightingale Training School include a register of nurses who went to the military hospitals during the Crimean War, While glancing at this one day an address with a very familiar ending caught my eye – Pirton Vicarage. Hitchin, Herts. The nurse's name was. Kate Anderson, and she was 30 at the time of the outbreak of the Crimean War in 1854. I decided to find out more about her, and this is the result.
Her full name was Catherine Leslie Anderson: she was born not in Pirton but in Devon, in the parish of Stoke Damerel, which included the naval base of Devonport. Her father, Robert Anderson. was a master in the Royal Navy. Kate's connection with Pirton was through the Reverend Ralph Lindsay Loughborough, who in 1851 became the first resident vicar of Pirton for 300 years. The story of his forty years as Vicar of Pirton has been told by Richard Whitmore in his book Of Uncommon Interest. He is best remembered for his restoration of St. Mary's Church. Pirton. which he found to be on the point of collapse.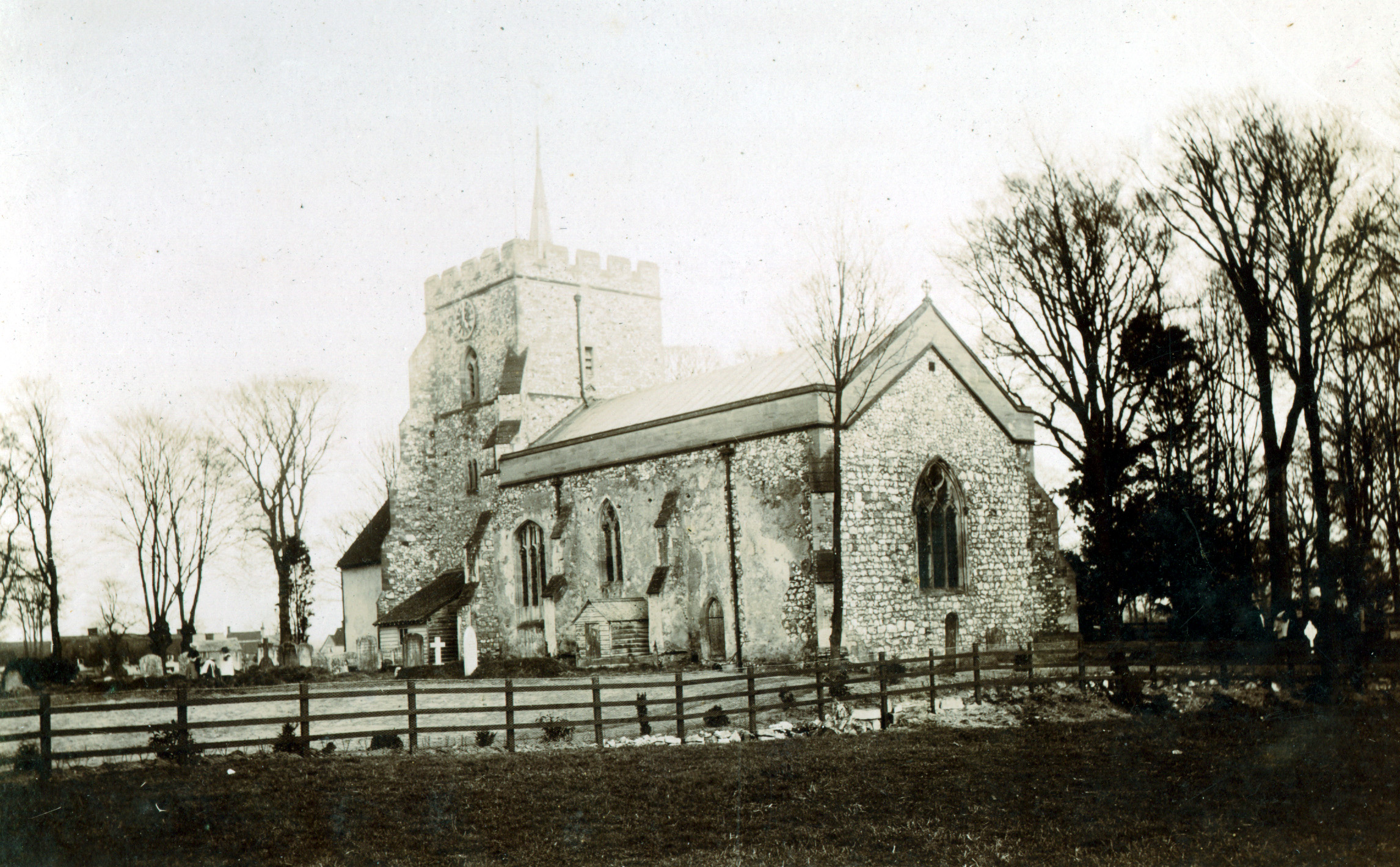 Before Ralph Loughborough came to Pirton he was curate in Stoke Damerel, and it was there that he and his wife Marianna became friendly with Kate Anderson. She was a serious-minded young woman with strong religious principles, and much given to good works. She helped the poor and nursed the sick. She visited workhouses. She worked for the parochial clergy in the slums of Devonport and. assisted Ralph Loughborough in his parish visiting.
The 1851 Census shows that Kate was then living with the Loughboroughs and their two young children. In October of that year the Loughboroughs moved to Pirton. A few months later they asked Kate to come to assist them in this godless and immoral parish.
Pirton parish was poor, and many of the inhabitants – men, women and children – were engaged in straw plaiting. Children were taught to plait from a very early age by attending plait schools. Kate Anderson wrote the following verses:
Little hands, whose hardest labour Should be weaving daisy-chains
, Aye are toiling at this plaiting, Adding to their mother's gains.
Little voices that should warble Blithely as the summer bird
Here by harsh control you still them Childish melody unheard.
Amongst young men and women, straw plaiting was said to loosen family ties and encourage immorality. Illegitimate births were common. "The baptismal register was avoided, the rite of Holy Matrimony was a mere legal form and a matter of choice as each one fancied."
Ralph Loughborough wrote this account of Kate Anderson's work in Pirton: "We worked together to clothe and humanise rough country people, whom we found with little religion and less morality; and her nimble fingers made bovs caps and girls' clothes out of any material we could get… She taught in the Sunday School, visited, and in every way assisted us. She more than once took rags off the children and put on them decent clothing, even if they had to be made out of some of her own."
What caused Kate Anderson to leave her work in Pirton was that she felt called to help the sick and wounded soldiers during the Crimean War. The war broke out in 1854 between Britain, France and Turkey on the one hand and Russia on the other. Britain and France sent an Expeditionary Force to the Black Sea to capture the Russian naval base of Sebastopol. The British Army was accompanied by the journalist William Howard Russell of The Times. His despatches about the appalling condition of the Army horrified the nation. In particular he attacked the arrangements (or their lack) made for the care of the sick. Ill and wounded soldiers were taken by ship across the Black Sea to Scutari on the eastern shore of the Bosphorus, near Constantinople. Here two hospitals had been placed by the Turks at the disposal of the British Army. The hospitals were overcrowded, the sanitary arrangements were appalling, and the men were left dirty and neglected. In contrast, the French army was much better looked after through the services of Catholic nuns. This situation caused a public outcry. The Secretary of State for War, Sidney Herbert, asked Florence Nightingale to take a party of female nurses to Scutari to take over responsibility for nursing in the hospitals.
In the mid-nineteenth century, nursing was not a respectable occupation for ladies or educated women. There were good nurses, but many had a reputation for drunkenness, as caricatured by Dickens in his portraits of Sarah Gamp and Besty Prigg. In the late 1840's and 1850's, religiously motivated ladies founded Anglican nursing sisterhoods in an attempt to raise the notoriously low standards of British nurses, in emulation of the Catholic nursing orders on the continent. Kate Anderson had first become interested in nursing in Devonport, where she assisted Miss Sellon, who later founded an Anglican nursing sisterhood. Before Kate left for the Crimea, she received additional nursing training at another High Church Anglican institution, St. Saviour's House, Osnaburgh Street, in London.
Kate went out to Scutari not with the first party, personally led by Florence Nightingale, but with a second party, recruited and organised by Cardinal Manning and the daughter of the Bishop of Norwich. the High Church Mary Stanley, who led the party. Kate was one of the nine ladies who were prepared to go without a salary. The rest of the party was made up of 15 Catholic nuns and 22 nurses, women of much inferior social status and education. They left London on December 2nd, 1854. When they arrived at Scutari on December 17th, they were sent to the British Ambassador's house at Therapia, near Constantinople, to await instructions. Kate wrote to Marianna Loughborough from the British Embassy on January 12th, 1855:
"We are obliged, instead of going to Scutari, to come on to this place, Lord Stratford de Radcliffe's. We have been tending the soldiers at the hospital here: some nurses came to take this work yesterday from England, so I go to Miss Nightingale tomorrow: only a few of us are chosen to go there although there are 7,000 wounded. We have been here a month, and I have been housekeeper and have been mentioned at the War Office as such. You would die with laughter to see the old nurses, when they come to my store-room, look at the brandy-bottles. and, as if they were synonymous, complain how they suffer from them spasms'."
As housekeeper. Kate was in charge of supplies. She had problems with cheating shopkeepers and dealers. The only way to obtain decent quality food was to invoke the aid of the British Ambassador. Once, the meat for the patients was so unfit that she brought the Ambassador to the hospital, but he had a horror of the place and would not go inside to inspect for himself. Thereupon Miss Kate seized a piece of meat and carried it on a fork to the Ambassador and asked him "Now, Lord Stratford, would you like such for your breakfast?"
By the end of January 1855 the party had been split up. Ladies, nuns and nurses were sent to hospitals in Scutari. nearby Koulali, and to Balaclava in the Crimea. Kate Anderson was one of those sent to Koulali. When they arrived, the hospital was not ready, but only two days later two steamers suddenly dropped anchor before the hospital and 300 sick and wounded soldiers were carried ashore. There were no beds, and no food. Sacks were hurriedly stuffed with straw to give the sick something to lie on. Kate wrote to the Loughboroughs on February 11th:
"This is the new hospital, and therefore we have all the misery of Scutari, without one of its comforts. We have very small, stores and the fever is raging most fearfully. I have two wards, and in one of them 11 orderlies, the serjeant and surgeon are dead. I am up in the wards from the early morning until late at night, and it is indeed most sad to hear the wild ravings of delirium – the fever makes them quite mad. We have had as many as nine dead in a ward at once, and they are just sewed up in a blanket, and placed uncoffined in a large hole. This hospital is nearer the seat of war than Scutari, so we get the worst cases now. Whatever spare time I have I devote to writing letters for the men, which is a great consolation for them. Many times I send the letters, telling the friends at the end of the death of him who dictated the beginning:"
After only a few weeks at the hospital, Kate Anderson herself fell seriously ill with fever. Another lady nurse who had become her friend, Miss Emily Anderson, fell ill the same day. The two Miss Andersons were sent back to Therapia with a paid nurse to care for them.
By April 5th, Kate was sufficiently recovered to be able to write to Marianna Loughborough:
"I have been very, very ill, so ill that my life was despaired of. One of our ladies is dead, and all the others save myself gone home: the Doctors told us all they would not answer for our lives if we remained: because we have had the fever once we must have it again. What a trustful set! However. I shall stay and trust in God: not one of our paid nurses remains at Koulali: they seem to fancy the poor soldiers can live without help. I had malignant typhus, and though I suffered, oh! fearfully, I am thankful that the lesson was given me: now I know how all my poor patients suffer. Far from frightening me, it only makes me more devoted to my sad work."
While she was convalescing at Buykdere near Therapia. Kate attracted the interest of an army chaplain, the Reverend William Francis Hobson, who was also recovering from illness. He was 36 and a widower. When she was able to get about, they walked and rode together in lovely scenery – sea, vale, wood and mountain, until one day on the mountainside wondering at a view of the Black Sea on the Asiatic shore and looking down on the scene of her labours, he asked her to marry him, and she accepted.
Soon afterwards she went on a sea voyage to Smyrna for the benefit of her health. She worked for a short time in the hospital there, before returning to England "with her hair still short and a pallid face and wasted frame." The following summer on August 2nd. 1856, Kate Anderson was married at St. Mary's Church. Pirton. to William Francis Hobson. Ralph Loughborough performed the marriage service, and Marianna signed the register as witness. Her husband remained a chaplain to the forces until 1869. so their married life was a succession of moves from army camp to army camp. and from dockyard town to dockyard town. Wherever she lived Mrs Hobson was active in helping the wives and families of soldiers and sailors. She set up schemes to provide them with accommodation al a reasonable rent: she obtained shirt-making contracts to give the women work, and she was also involved in a women's hospital. When ill- health forced her husband to leave the forces and he became chaplain to the almshouses in Faversham, as well as helping the inhabitants of the almshouses she organised sales and bazaars in aid of the orphanage run by the Sisters of the Church in Kilburn.
In 1877 she and her husband revisited Pirton to attend the marriage of the Loughborough's daughter Marianna in the newly restored church. By the 1880's Mrs Hobson was suffering increasingly from poor health. She died, shortly after Christmas 1886. at Temple Ewell near Dover where she and her husband had retired. Her disconsolate husband wrote a memoir of her life. which he called Catherine Leslie Hobson. Lady Nurse. The Crimean War and Her Life. He felt that his wife's achievements had been unfairly overlooked.